Our Road Trip from Start to Finish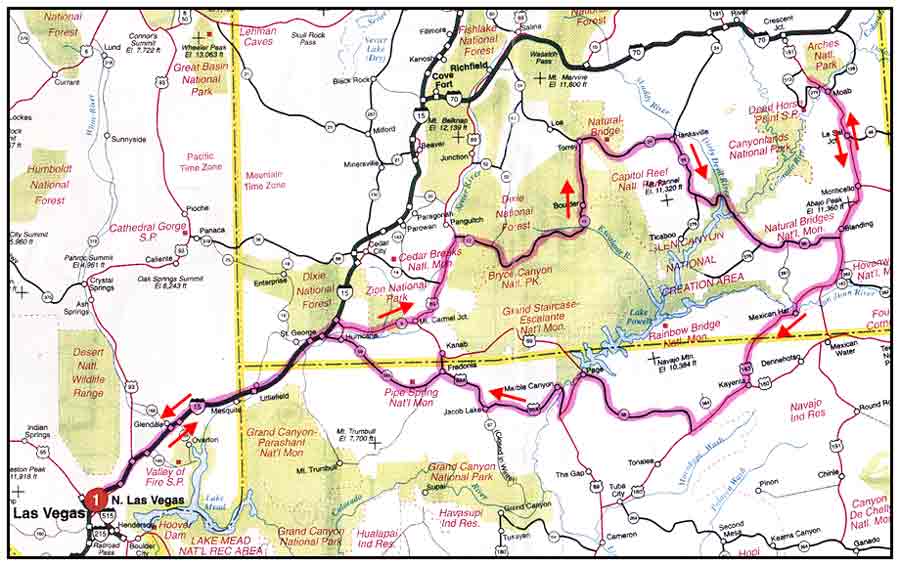 This trip starts in Las Vegas, the nearest city to the parks of Utah where a recreation vehicle can be rented. Our Delta air miles got us there at minimal expense — almost a unbelievable as the last time an attempt was made to benefit from this program was met with nothing returned.
We once lived in Las Vegas for three years. We left in 1975 and until this trip, had never returned. What a shock! There is simply very little there that existed in 1975. Oh, some of the names of the hotels and casinos are the same but not the buildings. There are freeways in all directions that did not exist 35 years ago and the people driving them might as well think they are on a desert trail with an ATV. Simply said, it is CRAZY!
The Road Trip
This idea grew from a long time desire to tour around the West in a recreation vehicle. Researching renting RV's indicated that it was about the same cost compared to traveling in a car, staying in hotels/motels and eating at restaurants for all meals. But there was strong arguments that favored the RV for convenience. Several places can be found in Las Vegas for a RV rental but we dealt with only one company at it had been recommended to us from a one-time rental company in St. George, Utah. For anyone considering such a trip, this company is Road Bear RV.
Using a mapping program, tracing the route indicated in the above map told me that 1,500 miles would be driven. At Road Bear, mileage is pre-paid in 500 mile increments. Unused miles pre-paid are not refundable but I was confident in my calculations and we pre-paid for the full 1,500 miles. We finished with a total mileage driven of 1,542 miles! For anyone interested in the itinerary here it is.
Okay, lets take a look at some photographs taken on the Las Vegas Strip.