---
Lesson Five
All photos copyright by Chuck Simon, 2005
Textures
The Original

Stained Glass Filter
Cell Size: 9
Border Size: 2
Light Intensity 0
applied to a Background copy. Blending mode: Luminosity 60%
---
This was created as instructed and then on a duplicate layer, the blending mode set to Color Burn. This darkened the area under the blossoms so the Opacity was set to 60%.
However, image still lacked pop at this point. In the Background layer I boosted the yellow by increasing the saturation. Still in need of something, back to the Background and applied the Filter Stylize Find Edges. This brought in some colors not seen in the original photo.

My wife thought that it looked similar to the brocade used in Japanese kimono.
---
Working with the Texturizer
| | |
| --- | --- |
| | |
| Original image used to apply itself as a texture | Applied self-image texture |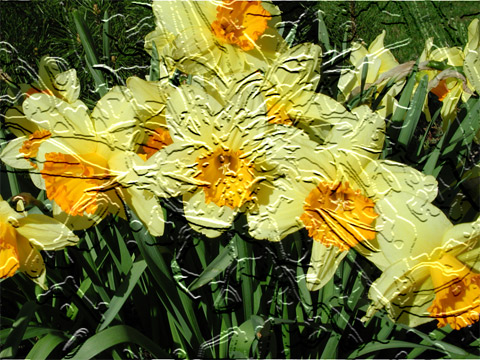 Then I got carried away. Applied the same texture to a different photograph of flowers.
| | |
| --- | --- |
| | |
| Original image used to apply itself as a texture | Applied self-image texture & Filter Artistic Fresco applied |
---
Distort Liquify
| | |
| --- | --- |
| Created this four square pattern and filled the image area before going to Liquify. | |
More Liquify
These were fun. Also, I got to use my tablet and pen and find out what it will do. For work like this, the pen is much easier than the mouse. I like it.

Playing around, added some other colors trying to get the "blue flame" but it didn't work well. With this one, I applied the color to a transparent layer so I could try different color backgrounds. Black remained the best color.
---
The Final Pizzazz Image
First a look at the original image that I used for this final project.
This I really like!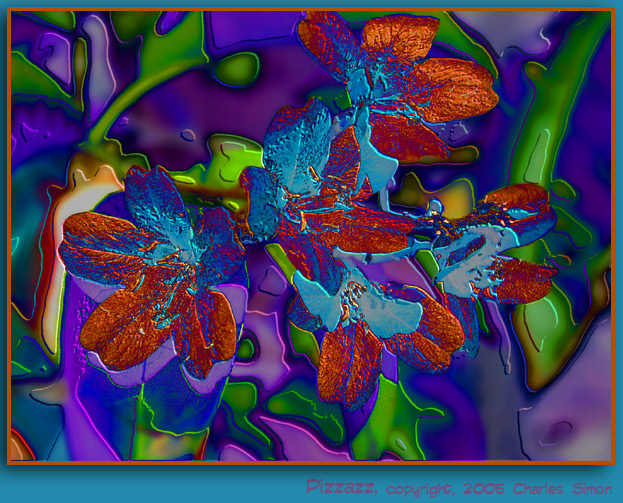 There was a lot of experimenting going on here. First I selected out the flowers and applied a Gaussian blur of 7 pixels to the folage in the background. Applied it again for good measure.

Brought back the selection of the flowers, copy/paste into another layer and applied the Filter, Artistic, Fresco; setting 2 and 81. Changed the Blending Mode to Luminosity set Opacity at 40%.

Flatten layers. Duplicated the image. Applied Filter, Stylize, Emboss at Height 8, Amount 80%. Selected All and copy/paste on to the first image. Set the Blending Mode to Difference, Opacity to about 90%.

Adjusted levels to brighten and boosted Saturation to 50.

I am totalled amazed at the colors that developed out of all this. The colors came about by the Blending Mode to Difference step. Going on to ...More Pizzazz.
Lesson 1Lesson 2Lesson 3Lesson 4Lesson 5Lesson 6
Pizzazz & More Pizzazz Homepage