Lane Motor Museum, Nashville
---
The Good, the Bad, The UGLY, the Reeeeaaal UGLY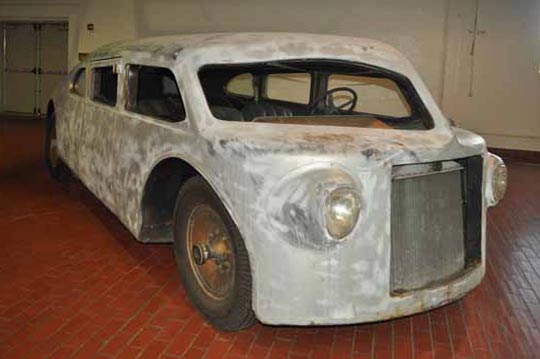 I could not tell if this was a car under restoration or if it was intended to look like this. It was without question the the ugliest attempt of creating a car that I have ever seen. The question — what is it?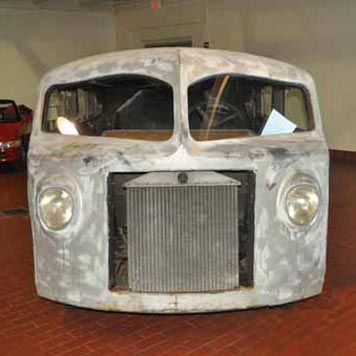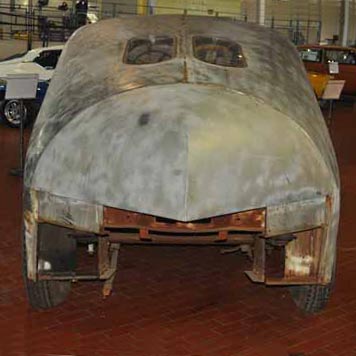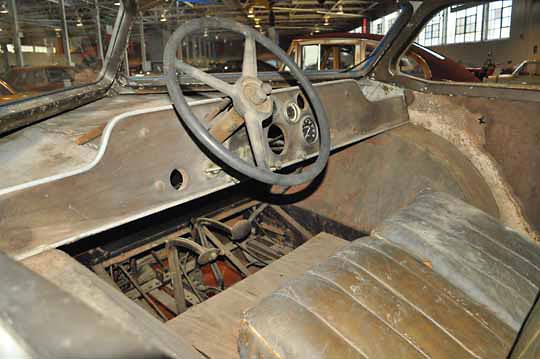 1936 Harris Aerodynamic Steam Car
Now that is hopeful thinking! H. R. Harris was a steam engineer employed by the city of Detroit. Mr. Harris designed and operated steam-powered electric generating plants. In the late 1920s and early 1930s, Harris was disappointed because of the failures of both the Stanley Steamer and Doble steam cars. Harris hoped that if he built a unique and stylish steam car, it might revive the industry. Many things about this are unclear. No one seems to know if it ever actually ran. Mr. Harris's grandson recalls playing in the car as a kid and remembers it being fairly complete. He also remembers the car as being a source of friction between Harris and his wife because he had spent a lot of money on the car. It appears the body was built by Fleetwood Body Company employees at night. Amazingly, the car was never painted. Lane Motor Museum plans to restore the car and get it into running condition. The rear engine is a Stanley Steamer 20 hp with direct drive to rear wheels. Top speed is thought to be 40 mph. Well, you gotta have heart.
---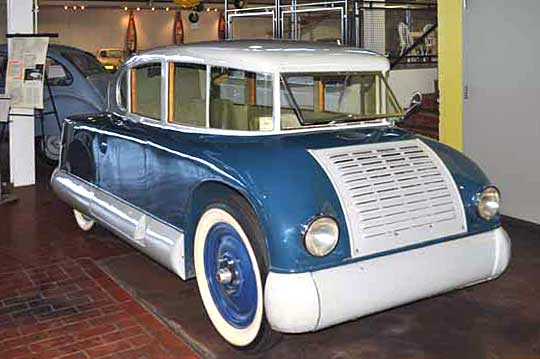 1938 Martin Aerodynamic Car
The Martin, despite vigorous promotion, never went beyond three prototypes. Pictured here is a one-of-a-kind aerodynamic vehicle built by Martin Aircraft Company of Garden City, New York. Martin's concept was to create a four-seater streamlined car along Jaray principles. Notice the pontoon-shaped underbody, fully covered rear wheels and a deep sloping front with the body tapering toward the rear. It is powered by a 4 cylinder, water cooled rear engine and has airplane-type suspension — which means no springs. The aluminum body has one door that opens into the back seat. This Martin was built for Air Force General William "Billy" Mitchell of World War I fame. The Martin was presented at the 1932 National Automobile Show in New York but the great depression was detrimental to the Martin. This car had a 3-speed transmission and was capable of 107 mph.
---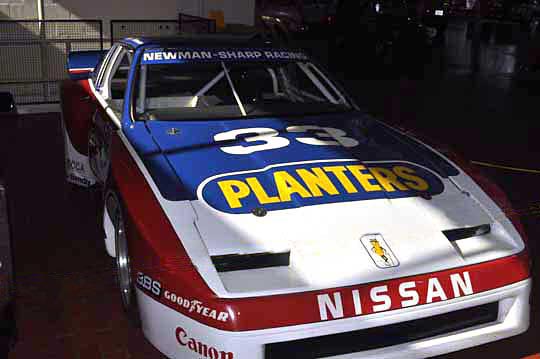 1985 Nissan 300ZX Turbo - #33
While preparing for the 1968 film, "Winning", Paul Newman underwent extensive race-car training and "found the only thing he ever had any grace in" — racing. In 1972, he entered his first real race at his home track, Lime Rock Park, and won. This was the first of many victories in his long career. #33 seen here was one of his most recognized cars. This "car" is a replica commissioned by Nissan to honor the 1984/85 Trans-Am 300ZX that he drove in the series and was used for promotional purposes at dealerships and motorsports events across the country. It sadly has no running gear.
---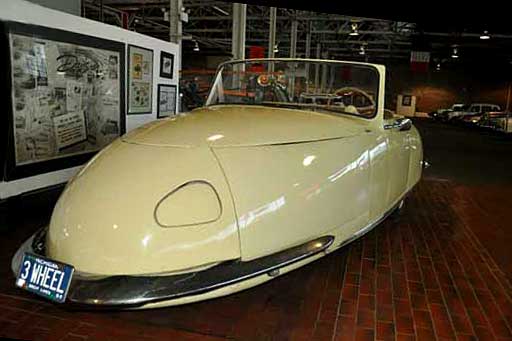 1948 Davis Divan
Glenn Gordan "Gary" Davis was an industrial designer and salesman. Around the end of World War II, he bought "The Californian", a Frank Kurtis built 3-wheeled custom roadster created in 1938, thinking it would make a practical economy car. It is almost certain that this car became the first Davis prototype. The Davis Divan was presented as an advanced, aircraft-inspired, high technology car. Sixteen running vehicles were built (2 prototypes, 11 Divans and 3 military jeeps.) The Divan, at 15.5 feet long, is a massive vehicle by 3-wheeled standards. The car is wide enough for four people to be seated side-by-side on the single bench seat. Although Davis sold franchises around the country, production never began. This fact, along with some financial irregularities, was the demise of Davis Motorcar Co. The prototype cars were not sold but rather given to creditors. The Davis (Club) Registry has accounted for all known vehicles produced and has a "bounty" for any unknown cars that may be discovered in the future.
---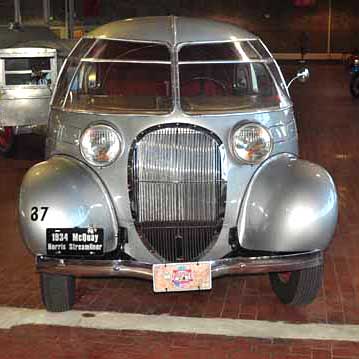 1934 McQuay-Norris Streamliner
This vehicle was created as a promotional vehicle for the McQuay-Norris Company of St. Louis, Missouri, which manufactured replacement pistons, rings, bearings, and other automotive parts used to rebuild an engine or chassis. Six cars were built for promotional purposes but more importantly they were used as test cars. As such, they were quipped with a multitude of gauges mounted on the dash to monitor the performance of various components. The highly advanced, streamlined body design was constructed of steel and aluminum over a wood framework. The curved plexiglass windshield offers a panoramic view — except to the rear. These vehicles traveled extensively across the U.S. and Canada from 1934 to 1940. The driver sits in the middle of the body and there is room behind the seats for suitcase and blowby meter (used to measure how well the piston rings and valves are sealing)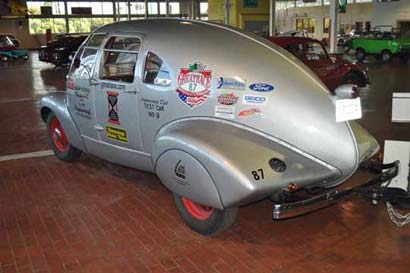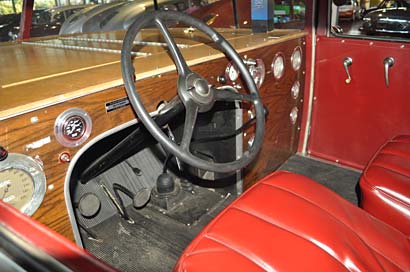 ---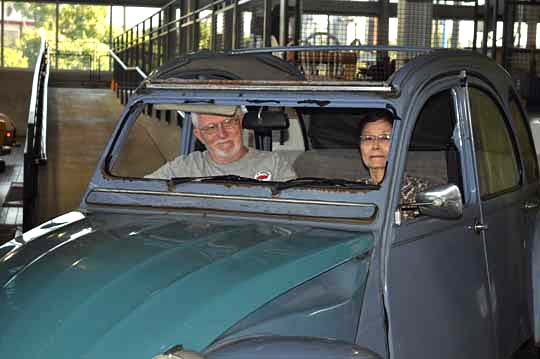 This little car looks better than it really was. It bounced like worn out bed springs.
---
Back to the first page cars.
Let's go on to a second page for some really "mini-sized" cars.
Onward to page three for a really UGLY car & some very cool.
Onward to page four for more on Tatra of Czechoslovakia.