Charles and Mieko traveled back to Yokosuka, Japan during the month of July 2002. While Mieko had been back several times since Charles' last assignment there with the Navy, this was the first time back for Charles since 1979. The changes in the City of Yokosuka and on the Naval Base was quite remarkable. We made a trip to Oyabi, south of Yokosuka, where we lived in a rented house for about a year and could not find the house. We came to the conclusion that supports for the Yokosuka-Yokohama Expressway made cause for the house and others to be removed. Then on Base, we could not find the house that we had on B Street. The photographs in this web site will show why.
The photograph at left was not taken at Yokosuka but at Kamakura. A little known temple in a city of many temples and shrines. The bamboo and other garden plants were particularly beautiful and I want to share this photo with those visiting this site.

The photos presented here are in the order taken. Some are rather ordinary and perhaps meaningless. You, the viewer, have a choice as to what to look at, if any. All the small images will enlarge with a left click. To get back to the page from which you came, click on your browser "Back" button. These images may be down loaded for personal use such as desktop wallpaper. All images are copyrighted to Charles R. Simon, November 2002 and may not be distributed.
Downtown Yokosuka on Mikasa Street has taken on a new look. My impression was that the City of Yokosuka has come into a lot money. It is very nice and it is clean. The streets are bordered with pavers, the pavement is of a recycled material that has blue and white chips. The streets have nice trees.
---
Scenes of the Yokosuka Naval Base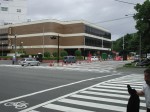 This is the new Club Alliance at the main gate. It is open below the part that juts out to the right and all walking enter and exit the Base. The guards US, Navy not Marine, and Japanese are stationed about half way back. The gate itself was shifted to align with the street across Route 16. To us old timers that gives a different look but it is a more logical intersection.

I had occasion to go through this gate about 7 p.m. just before we left to come home. It was either a Friday or Saturday night. The foot traffic entering and leaving the Base was amazing. Very busy with many talking on cell phones. There were even a couple of sailors pulling a wheeled cooler, with Special Services written on it, that was about the size of four six packs. A very different time from when I was in the Navy.